Get involved with any one of the following volunteer opportunities:
Guild Member – Active chapters are located in Indianola, Ames and Des Moines.
Ushers – Volunteer ushers are used for all mainstage festival productions and for some special events.
Supernumaries – Des Moines Metro Opera often needs adults and children of all ages to add color and pageantry to staged productions.
Des Moines Metro Opera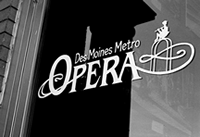 http://www.dmmo.org/